Coconut Retrievers
I Am... A Coconut Retriever
"Little Girl"

I was born on an island, some call paradise
But somehow to me, it is not very nice.

I had a mother and a father too.
However, when I was born they chose to leave me too.

I wander the streets looking for food and love
Something I yearn for and would love to have.

I know there are animals that seemed to be loved,
However, no one seems to bother or give me a hug.

I did not choose to be born in paradise,
But somehow, someway I had no other plight.

But in hopes that someday soon someone will come
To the rescue of my plight and secure me a home
With love and a future in sight.

I know I can love and be loved too
But until someone makes the fight
My yearning for that is nowhere in sight.

Is this too much to ask for
A creature of God
Who can love and protect?
I think not.

But until the day I die
I will always have sight
That someone will rescue me
From my lonely plight.
St Martin is an island in the French West Indies, it is so beautiful. But ...there is a dark side. Every where around the world there are animals that need help, here too. We try our best to help local animals through Cavan Hills Veterinary Services and are extremely proud to say that we have helped and saved literally hundreds of animals from an unknown life. In Canada, we are fortunate enough to have such organisations or help groups like the humane society. In french St Martin there used to be an animal rescue centre, but was closed down, meaning that there was an abundance of animals left to fend for themselves. WHY did we choose St Martin? Because it is the ONLY caribbean island that currently has NO FUNDING from the government. Now thankfully, the french side of St Martin has recently built a wonderful small shelter, there are also some rescue groups from the USA who are helping these animals. They are all doing a fantastic job. These dogs and cats are desperately needing help, some groups are raising money to help spay and neuter and then return them to either the city life or beach life that they have been used to, therefore reducing unwanted litters. Cavan Hills Veterinary Services wants to help too, we are and will help as many as we can but "We Need Your Help Too"


Please Click on the link below to view the Wonderful story of "Mullet". Mullet a Coconut retriever was found on the Island of St-Maarten. He was hungry, thirsty and had a 12 foot metal chain around his neck that was too tight and was cutting his neck. He was dumped in a field and was taking refuge in an old abandoned house not far from Mullet beach. Mullet was very sick with every kind of worm that a dog could have including heartworm. Today he is happy as a doggy could be at home here in Canada with Rob and Lydia http://www.youtube.com/watch?v=IDCrGrnGjJI


October 2007
Richard and Laura have recently came back from the island of St Martin....hope is in sight, many new doors opened this trip for us to be able to save some of these beautiful dogs and cats. As you can see some of the dogs have collars on, that we put on them, this seemingly prevents the dog catcher picking them up and taking them to be euthanised.The trips have been full of Highs and Lows, finally we have made some great contacts.

Little Girl
Little Girl...we didnt name her as such but she was the first dog we tried to bring home, we seen her many times over the past few years. We would feed her and give her the water that they all so desperately need. We did not find her this visit, but will keep looking. Little Girls facial expression says it all in the above photos.


...another CoConut Retriever .."CoCo" is a beautiful natured female we tried to bring home, she spent 4 days with us and then dissapeared. We searched for her for the last three days of our trip, with no sighting.
There are people searching for CoCo as we speak, we will keep hoping.


CoCo

Daisy's Story
Daisy is approximately 1/12 years old and lives her life in a busy island parking lots with crackheads sleeping all around her and occassionally the staff at the grocery store will throw her some scraps.

Daisy



We Did It !!!!!! Our "first" Coconut Retriever "Rescue"

Daisy was discovered by "Joelle" www.snobsxm.org who brought her plight to our attention when
we could not find CoCo. Joelles letter to us:

Miss Daisy was dumped at a grocery store parking lot in the caribbean island of St Martin at a tender age and is probably 1-1/2 to 2 years old. She was spayed last December by a friend of mine. Since the grocer didn't claim ownership and my friend was told she was fed sometimes, Daisy was returned to the property after her operation. (She couldn't take her because she was already taking 3 rescued puppies home to the US to adopt out.) My friend asked that I look in on her when I was here in Feb. I went to feed her once a day. This August I found her to be a bloody mess. Thinking she had been in a dog fight I took her to a vet for antibiotics. Her severe wounds turned out to be "hot spots"! She had just itched and scratched herself until they bled and they never got a chance to heal. Since I was unable to adopt her (I have 3 island dogs at home) the vet gave her a shot of cortisone to break the itching/scratching cycle and a shot for the mange she had developed on her hind legs. She improved greatly in just 3 days time and her hot spots began to heal. She's extremely affectionate and nuzzles you with her nose and the side of her face like a cat! She's playful and silly...she jumps and leaps and wiggles like a puppy. I kept her with me for 8 days and attempted to find her a home or foster home in the U.S. but was unable. I had to return her to the parking lot where she will at least
sometimes be fed. But she had a lot of bumps and scars from living there. She deserves a good home where she will be treated well...a place where she will have a family of her own...one person or a bunch of people and a dog or 2 would be nice! She's a real people dog and will go to just about anyone who smiles her way in order to get a pet. Please...there must be someone out there who needs this very special dog to love. I went to feed her at the parking lot on the day of my departure. She was so happy to see me that the food didn't interest her until she could properly show me how much she missed me...nuzzle, nuzzle, butt wiggles and tail wagging furiously. Then she ran over to my car and put her feet up on the hatchback where she always entered...."please, can we go back now?" It broke my heart to have to tell her I couldn't take her with me. ....She gave up, ate her food and I sadly left her.... with a really nice meaty bone to distract her. But she watched me leave, her chocolate brown eyes following me to my car...knowing I would not be taking her with me.

So, when we read this we told Joelle that "we would adopt daisy". She was thrilled!!!!So, the process began! Now we had to find Daisy and hopefully she would still be at the parking lot. Joelle informed a friend in St Martin "Ursula" who kindly went sometimes to make sure Daisy was ok and would give her love and attention. She now would be receiving regular food and water. Daisy would have to hold on a little longer till another friend Lesley and Rob would arrive from Miami for one weeks vacation. They would take her to the vet, and start to socialise her more and keep her with them for the week. On October 1st 2007 (Richards Birthday) Les and Rob arrived in St Martin, they went straight to the parking lot and found Daisy lying there. Les said "It was such a sad sight" They rescued her for the final time.......She was on the home run now!



Many, many phone calls and texts and emails between Les, Rob, Ursula, Joelle and ourselves took place.
The temperature had to be just right for Daisy to get off the island.,due to airline restrictions and she had to pass the vet check.
Les and Rob, took her to the vet, she got checked out and was amazingly free of Heartworm and Tick Fever. She got her Rabies
shot and health certificate, free to travel to the USA and Canada.Throughout the week Les and Rob took Daisy everywhere with them
on their vacation, socialising her, showing her love,care and lots of attention.


Daisy became a "Huge Hit" on the beach, everyone knew she had been saved and would be travelling home to Canada
So many people would bring her all sorts of goodies and food, Les had to cut it back and share it with less fortunate dogs around.
Remember daisy was a City dog, so the beach was a new strange place too, but she loved it, she new she was safe with Rob and Les.
Joelle and ourselves were on pins and needles the whole week wondering if we could pull this off...hoping. Les and Rob sent us a text on the day of departure. American Airlines said Daisy would be allowed to fly, we were all ecstatic. The cabin crew even announced that "Daisy was safely now onboard"

Daisy arrived in Miami USA on Oct 9th 2007 without a hitch. She went on to Les and Robs home and met their family dogs Sandi and Buddy (Buddy was rescued by Les and Rob the year before from the island) For two days she was an American...then Les escorted daisy to Toronto on October 11th 2007.


Daisy arrived at Pearson International Airport to a very happy new mummy and daddy.





First walk at home Daisy with her Mummy


Daisy with her daddy Daisy meeting her "New Brothers"


Daisy with Jacob First meeting with her new buddie

Daisy didnt take too long to become CANADIAN Daisy meeting Jack and "Petey The Cat"



Getting to know her new home "MeadowView"

............Three weeks Later
Our Happy "Coconut Retriever"
We would like to thank so many people who helped us bring our "Daisy CoConut" home

Joelle who is an absolutely amazing woman, her love for animals is such an inspiration. She has rescued so many dogs and cats from the island and found them great homes. Joelle fell in love with this little dog and searched for someone to love Daisy.
Ursula and Tito
who fed,watered and gave love to Daisy in the parking lot she called home.
Les and Rob
who shared their weeks vacation in paradise to help a little dog, they made this dream come true.
William and Phillipe
for their supportive words and caring hearts.
Daisy will be the first of many CoConut Retrievers that we will bring home, to adopt to "very carefully chosen families".
We can only hope that you can open your heart to one of these amazing animals.
laura_scouller@hotmail.com
You Wont Regret It.....ask Daisy...Say hi to her when you see her at the clinic!


Daisy in St Marten August 2007 Daisy in Canada November 2007





Laura and Richard (Daisy's thrilled mummy and Daddy

The story below was sent to us from fellow Coconut Retriever owners William and Phillipe:
WARNING : This post contains some sensitive pictures of an abused dog...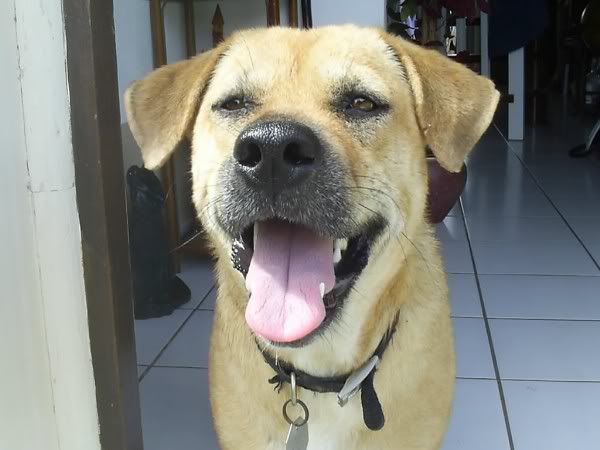 When we spotted Maggie for the first time it was in front of our restaurant on the middle of the road. We immediately notice that she was abused and very sick.
She was extremely skinny, and had certainly the worse case of mange we ever saw on a dog. Her skin was basically nonexistent, and we could see some open
wound and raw flesh all over her body. We almost suspected she had been burned with battery acid... Of course we couldn't approach her at all ! She wasn't
trusty and extremely afraid of human. Nether less everybody passing near her were chasing her away because "yirke !... She is so ugly and disgusting !...
I could cry when I think about today. Of course it was a challenge but we were not going to give up !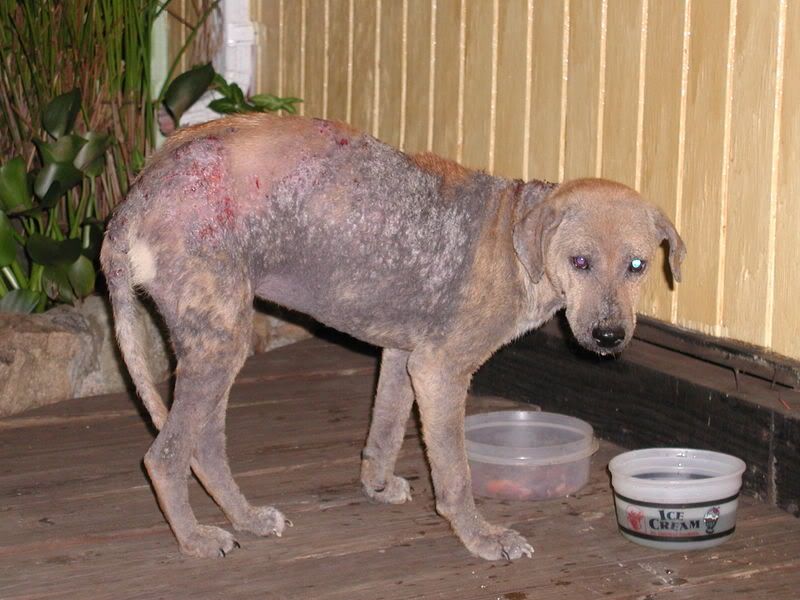 Days after days, very slowly we tried to gain her trust and confidence.
We tried to get closer to her. My partner William was the big winner at it. To the surprise of everyone, thanks for his patience and his love for the animals
and hate for the injustice, he manage to bring her closer to the restaurant. First at the bottom of the steps where we put some food and water for her, then
later on, maybe weeks after we started this challenge, he managed to make her climbing the steps of the restaurant and feed her on the deck. Some people
may be think it is disgusting to bring this kind of animal into our restaurant, well I would say, this kind of people can stay away from our restaurant because
THEY are disgusting !... Anyway, she never went close to the kitchen nor the dining room, and was staying by the garden next to the bar. Little by little he gained
her trust. For any reason it was more difficult for me. Not that he could touch her or what ever but when he was calling her she was coming close to him, not to me.
It didn't really matter in fact, the important was that she wasn't on the street anymore as she established residency at the restaurant. At night and during the day
as well as during the service, she was sleeping and protecting herself from the elements by laying on a shelf below an outside cabinet next to the bar. It was her little "dog house".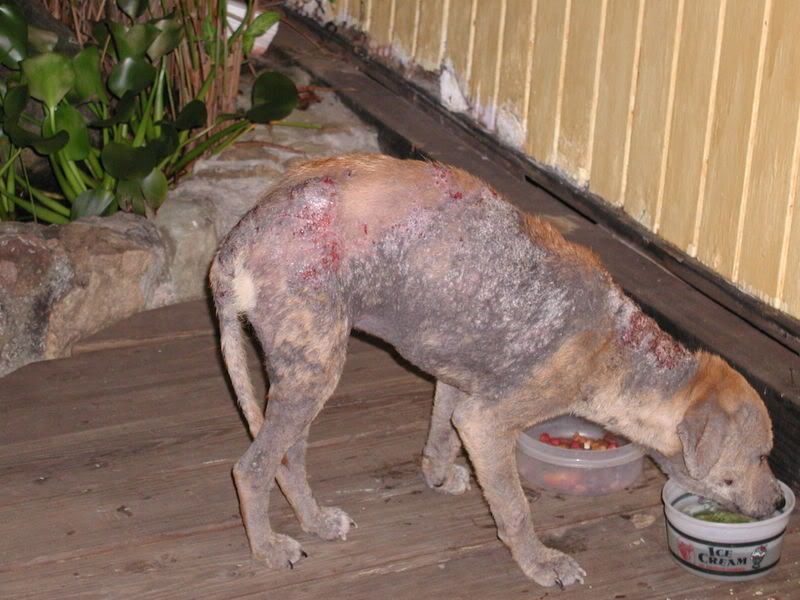 When we were finally sure she wasn't going to go away anymore, we started the treatment for the mange. Useless to say that in the meantime the disease had spread largely affecting 90% of her body. It took us about 8 month to fix her, giving her every single day some mange medicine in her food, while we still couldn't touch her, her skin being so sensitive. After few month William managed to touch the top of her forehead for the first time. She let him do so.
It seemed like she liked it. It must had feel good for her. Little by little again, he manage to pet her almost all over her back. But she was still a bit skittish. We needed to get her use to it, as we already found her a home and made all the arrangement for her adoption. We couldn't take her home with us, as we already have a full house of family members and are not living in a farmhouse (space wise...) and it was no way that she was going to stay living at the restaurant and do not have
a decent home. Her future adoptive British parents, Andy and Jane were visiting her almost everyday too, so she could start to know them and trust them too. They live only 500 feet away from the restaurant.
Finally, when we were sure that she was not infested with mange anymore, about 10 month after seeing her for the first time, Maggie went home with her parents and with her new brother Digger ( a fat little Jack Russel). She became immediately a "princess in her castle" ! She has her own (single) bed (Digger has his...). When Mom and Pop eat stuffed chicken, she eats stuffed chicken... When Mom and Pop eats pork chop, she eats pork chops... what ever they cook for them, both Digger and Maggie eat the same. Mom and Pop travel separately so as to not leave the babies by themselves or being take care of by strangers. She met her "cousins" Caramel, Picolla and Happy and she loves to play on the beach with them and Digger (who is a bit grumpy...)
Can you imagine this is the same dog?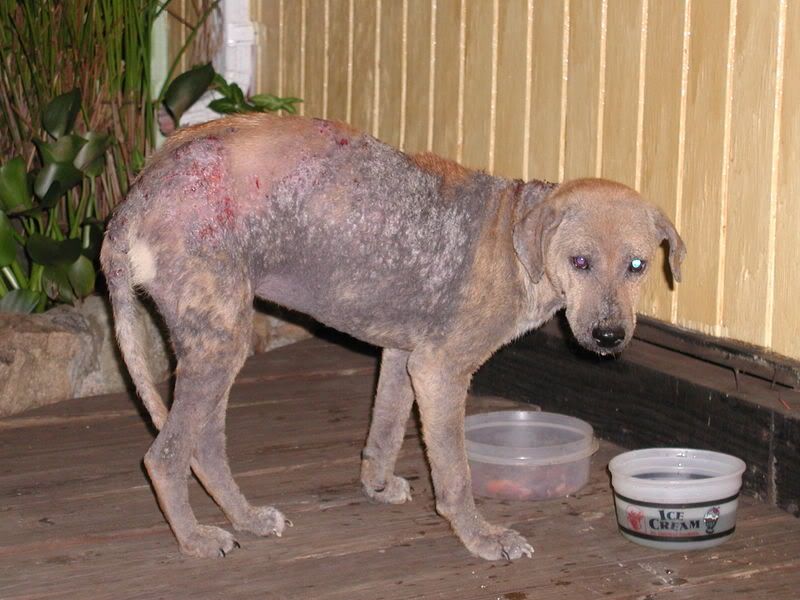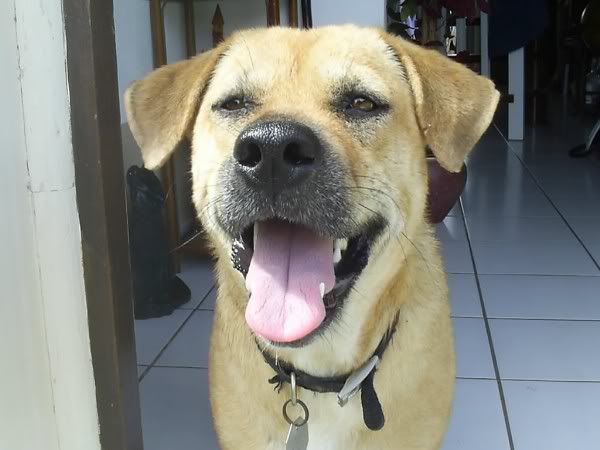 Maggie is one of the success stories... William and Phillipe from St Marten didn't give up on her!... We NEED more success stories.....
please contact Laura or Richard if you can help in any way



Phillipa from Phillipsburg, FWI Little Phillipa




Poor Little Phillipa with Richard when we first found her wandering through the busy streets of Phillipsburg

November 2007 We will be searching for Phillipa when we go back in the fall 2007.....No sign at all of her



Dec 2007 Guess who we have home in CAVAN!....We found her!!!!

This is nothing short of a miracle, we had given up after searching for Phillipa for over one year.
We were in a very buzy and extremely hot Phillipsburg one morning and stepped out onto the crowded street, looked down and there she
was...lying on the street right in front of our eyes.



We just stared at each other for a few moments and then immediately ran to her and tried to get her off the street as cars and people were
all around her avoiding her.
She was extremely malnourished, dehydrated and very sick with tick fever. Due to her being so incredibly weak, she allowed Richard to pick
her up and carry her back to the car which was
off course at the opposite end of the town.



We were ecstatic, some ignorant people looked at us as if we were lepers, carrying this dog and avoided us by crossing the street.
Once we got her home she rested for the next week with the best veterinarian in the world looking after her..not many street dogs
have their own personal veterinarian 24 x 7.



We socialised her and gave her everything she needed, we also had to get her used to a kennel. She trusted us so much, it was unbelievable.
This was a little dog approx 7 yrs old and probably had as many litters, she obviously never had human care, so due to her being weak,
she gave in to us, much to her benefit.



Phillipa travelled on the scary big aeroplane back to Toronto, we stayed overnight at the airport hotel and drove home to "Meadowview" the next day.
Phillipa is home at last for good





April 2008
We absolutely adore her and she has never put a foot wrong...an absolute joy in our lives and gets along with all of our dogs, cats and horses.



A wonderful end to little Phillipa's story and start to a brand New Life.


"Beautiful Suzy "
Once we knew phillipa was coming home with us, we knew that we could not bring Maartan and Louis,
they could not be split up and we only had two reservations which was the airlines limitations , we had to
search for another dog. We decided to go to a veterinary clinic where we knew there was many many
puppies that had been rescued from the local dump...it was more than we could bear. To make a decision
to take one over another was unbelievably difficult for us, heartbreaking...then all of a sudden the decision
was clear...there was a dog who had been hanging around outside this very very busy vet clinic...her name
was Suzy and she was only 10 months old.



Suzy had been hit by a car 6 weeks earlier and the clinic staff found her outside in a bad way. at that time..
they gave her the medical attention she needed and found she had broken a bone in her leg, they put a
cast on it and did the best they could do, but had no room for her at the clinic, which was absolutely full
of animals... so she was returned outside to wander the streets again. She did hang around after that and
would wander in and out of the clinic for food.


suzy just arrived

Unfortunately Suzy was run over yet again and re injured her leg...again they gave her the medical attention
she needed...thats when we arrived and decided Suzy needed to come home to Canada.
Suzy and Phillipa travelled together home with us on Dec 1st 2007 to their new life in Canada.



Suzy stayed with us for a while until she became used to her new life, she even went to the clinic every day
with Richard, she was so sweet and a great girl, but we knew we couldnt keep them all.
Suzy needed a home and for us to continue to be able to rescue, we needed to learn to let go.

Phillipa and suzy
We found an amazing home after very careful consideration, she went to live with John and Phil and her
new doggie friend Desi. They all fell madly in love with each other and are living happily ever after.


John and Phil wrote this about their Life Now With "Suzie"
Our life with Suzie (our coconut retriever) began on January 26th 2008. The year had not started out very well for us having lost our 2 year old cat Rex early in the month
and then Lucy our 12 year old dog on January 18th. Our other dog Desi along with Phil and I were very depressed and lonely and started our search for a friend for
Desi and a new family member.
Phil and I are strong believers in rescuing animals so our search started at the Peterborough Humane Society from there to the Lakefield Animal shelter and even to the
Kingston Humane Society. There were some wonderful dogs and puppies at all three locations but for some reason none of them seemed like the right fit for our family.
On January 26 we remembered that at Cavan Hills Veterinary Service there were postings for good homes for various animals and decided to try there.
We saw a posting for Suzie a coconut retriever from St. Maarten. As we walked to the desk to inquire about her Richard came from one of the examination rooms.
Richard expressed his sympathy over our resent loses, and we asked him about Suzie. His eyes lit up just at the mention of her name and he asked us to wait so he could
introduce us to her himself.
Suzie was a 10 month old street dog that had been hit by a car twice breaking her right front leg both times. She was taken to a Veterinary office both times where her leg was set and then put back out on the street.
I guess fate was at work the day Richard and Laura met Suzie because they had room to bring one more dog home with them.
Suzie became a fast friend for Desi and within days felt like she had been with us forever, she has even made friends with our 2 cats. Although there can never be a replacement for Lucy ,
Suzie has helped us through a rough time and is a perfect addition to our family.
We are so grateful that Richard, Laura and the staff at Cavan Hills trusted us enough to take Suzie into our home and our lives.
We are looking forward to many years of fun and love with Suzie in the years to come.
John & Phil ( Lucky Lucky Suzie, she struck GOLD)




Rusty is our three legged gorgeous little boy
ADOPTED By Jennifer and David Perry!!!!!!!
KoKo (Adopted) KoKo & Tiger (Adopted) KoKo (Adopted)

Lily (Adopted) Sammy (Adopted) Tiger (Adopted)


Luke (Adopted) Happy (Adopted) Saffron (Adopted)
Phillipa (Adopted) Daisy (Adopted)
Coconut puppies , Suki and Bailey (Adopted)


LUKE


There has been many many people inquire about Luke photograhed in St Martin above & at HIS forever home!!!!

One of our clients Les Latchford, decided to take on herself a project of raising money to help Luke.
She managed to save the funds to get him off the island and to contribute towards his high medical bills in St Martin.
We wanted to bring him to Canada very badly, but were very afraid that he would not be allowed to enter ,due to his "Pitbull"
appearance., which there are very strict laws about.
We didnt know what to do if he was turned away. It was a very difficult decision.
Our friend Audrey who has helped literally hundreds of dogs find homes fostered Luke at her home on the island and gave him the attention
and love he desperately needed.
She also found him a fantastic home in the US........Thank you Les and Audrey!!!!!


This is from Audrey!

Luke is great! He and demo his big brother are getting on famously.
He sleeps next to his dad on a big bed. Mac leaves his hand over the
edge and luke kisses it during the night. Demo sleeps on a big bed
next to his mom. Luke has had play dates, romps in the park and
daily play time with demo which constitutes a race around the pool
table and playing with toys and balls. In a few weeks he will work
with a trainer one on one but already has sit and down. When susan
and mac leave for work luke is crated next to demo who is on the
couch. Everything is new to luke, he is cautious around new people
and situations but soon warms up. It is like he was just born
learning to love trust and play, he is a happy puppy. They will love
and protect him to the end. He loves to cuddle and wants to be with
them. Mac has a big red truck with 4 doors. Demo likes the big back
bench seat (demo is a 11 year old 95 lb golden in great shape) and
Luke rides up front, so dang cute to see. Demo is perfect for luke.
He is sweet yet not a push over and really seems to like his little
brother. Luke is already learning from him. Will send pictures when
I get them. Thanks everyone for helping get this guy to a safe
loving home.
Audrey


Lilly



It was 2am on April 26/08. My husband Doug and I were sitting in the arrivals section of the Toronto Airport. We were anxiously awaiting the delivery of very important cargo:
two coconut retrievers rescued from St. Martin. Lilly and Friendly were about to be fostered by us.
On the drive home from the airport, we stopped at Tim Horton's for coffee and donuts. The dogs had no idea what to do with this sweet treat. Lilly was extremely timid and stressed.
Friendly was in much better shape, living up to his name.
On getting them home, we discovered that Lilly was covered in live as well as dead ticks. She also had mange, the non-infectious type.
Loud noises and sudden movements terrified this sweet little girl. We kept the two isolated from the rest of our 6 dogs in a spare room for 2 weeks.
We spent alot of one on one time with the coconuts and started to earn their trust.
After about 2 months, Friendly went to his forever home. And Lilly had worked her way into our hearts and after getting permission from Dr. Maser and his wife Laura Scouller,
we adopted Lilly.
She has come such a long way. She now has a beautiful healthy coat and a love for running around the backyard, playing tug of war with the other dogs.
She absolutely loves her daddy and snuggles up to him on the couch.
She is still somewhat skittish at loud noises and has trust issues with strange people but we think she will overcome this in time.
We love her as we do all our four-legged family.
Oh yeah, she knows what to do with donuts now!
Cindy and Doug Jackson

Thank you Cindy and Doug, you have been and continue to be a huge help to us with all of our rescued animals

Friendly/Marty....Happily in a GREAT home (more pics to follow)

Marty Home....finally found a GREAT home with Jane Potts and her family
COCONUT RETRIEVER PUPPIES
Beau Boots and Tigger (Above) have all found wonderful homes!!!!
COMING AS SOON AS WE CAN GET HER HERE... and she is fit to travel "LITTLE APRIL" (ADOPTED)April is a sweet little pup and looking for a great home!!!! She's around 3.5 months old and only 4.5 kilos.....
Really sad how someone could abandon this bony little girl on the beach and tie her up with wire around her neck in the hot sun with no water!!!
Will you be the ones to love her forever? ? Please contact us..we are hoping to have her in CANADA very soon
1 705 944 5776 1 705 944 5776
Little April with Marty who found her


Foxy and Christopher Robin

arrived from st Martin on January 2008, Along with

Sammy

and three little puppies,

Saffron, Suki and Bailey

,
we rented a "Big Van" to pick them all up at the border to pick them up from Audrey who again had escorted them off the island to the USA and on to Canada
looking out the window at CANADA Christopher Robin was very withdrawn But soon they were chewing their chewies on the long ride home





Cat Mazza

fostered Foxy and Christopher Robin. giving them a ton of love..........until they found their forever home TOGETHER with
Kathleen & Angel
Kathleen sent us this wonderful update recently
LIFE WITH FOXY AND CHRISTOPHER ROBIN
It has been almost a year since we adopted Foxy and Christopher Robin, our two Coconut Retrievers. They are a wonderful asset to our lives! We chose to adopt these two dogs because we were used to having more than one dog and we thought that most folks would be nervous to adopt two dogs at once and these two needed to be adopted together. We believe that keeping Foxy and Robin together made their transition much easier. They had each other to rely on if they were feeling insecure. We usually take them everywhere together, including medical appointments, even if only one of them has to see the vet. This way it keeps their comfort level high. ! They do love going for a walk to check out whats going on in the neighbourhood but are just as content to run around in our enclosed backyard where they don?t have to be on a lead!
Both dogs are extremely clean ? they were fully housebroken when they came to us. Their health has improved steadily with a proper diet and care ? their coats have grown lovely and thick. Almost immediately, Foxy bonded with Kathleen ? she?s a ?girls? dog?, and Robin bonded with Hector Angel ? he?s a one-man dog. Although they have their preference, they show their love for both of us. It took a week or so, and a couple of whacks on dog noses, for our cats to lay down the rules of the house. Everyone knows the ?pecking order? and life in the menagerie is quite settled now.
Their personalities are dramatically different ? Foxy is outgoing and willing to try any adventure whereas Robin is very shy and likely to hide if he feels insecure. Foxy gobbles down her food like it?s her last meal and we have to coax and cajole Robin to eat! We call Foxy ?the sunshine girl? because she just loves to lie in the sun for hours at a time. Robin will join her for awhile but then needs the security of being under somewhere safe ? a table; a dresser; whatever. Because of this trait, we call him our ?little Osito? (means ?little bear? in Spanish). However, at bedtime he comes alive ? that?s his time for cuddles and play fighting with us. He just loves to jump on the bed for his one-on-one time with us while Foxy looks on in disgust because she wants to go to sleep
The main attributes we need and try to have are patience and unconditional love when they become nervous or upset. This applies to any dog that is rescued because we don?t know what trauma they have experienced before coming into our lives. Obviously Robin has been traumatized with different things than Foxy ,and we just accept that. Robin hides when strangers come to the house and is afraid of noises, including the vacuum, whereas these things don?t disturb Foxy at all. The only thing that absolutely freaks both of them out is thunder and lightning storms ? Foxy runs around barking hysterically and Robin quivers and hides anywhere he can find. We haven?t been able to cure them of this insecurity and may never be able to. We just accept this and work around it. They likely have been terrified by storms in St. Maarten and, as stray dogs, had no one to give them reassurance.

We love THEM, as they love US, ?warts and all?!


As our coconuts are adopted more will take their place.....just open your hearts..please




In the van with the other 5.......not good at all





What a difference in ONE month Is this really the same dog...........9 months later SAMMY!!!!!!
Jude
Arriving inToronto
ADOPTED
JUDE has a fantastic home with Stephanie McQuade
Lulu after her life saving surgery at CHVS ADOPTED Carly and Marley ADOPTED
Saffron, Sammy, Robbie and Daisy ADOPTED Bijoux ADOPTED



Some of the dogs we left behind.....




Laura with Maartan and Louis



Richard with Louis



Laura with Maartan



Louis



Laura and Maartan and LouisYesterday after visiting with maartan and Louis, maartan ran off suddenly along to a deserted area of the beach,
he wanted to show us something l am sure. l was right, he led us to a black female who obviously had just give birth to a litter of puppies...
we had no food left with us and it was getting dark, so we gave her hugs, she took off behind a derelict beach hotel, we tried to follow her, but lost her.
It is dangerous to venture into desolate areas so we abandoned the search for her and her puppies until tomorrow.


Maartan led us to this Black female



"Good Boy Maartan"

Feb 2008
When we went back to visit, maartan was nowhere to be found, the black female was still there, her puppies gone.
Louis is getting old, more teeth are gone, he misses his buddy maartan we are sure.

Below are some of the dogs we befriended.....some we will never meet again.....

CoCo Little Girl

Below are some of the dogs we have came to know


CoCos scar from being chained or tied with wire Boxer puppy...extremely skinny



Laura with lab and sick little male This sad guy was gone this trip...it was too late for him




sick little kitty This little girl just wanted a little bit of love.....she got it from us...and a feed





Feeding Time for The Coconuts
November 2007 We are on the island at present and have not seen Coco or the others above. They are gone!
Although two of the coconut retrievers in the above photo"feeding the coconuts" are still here. Their condition has deteriorated greatly.
A bar man on the beach would feed them quite regularly, his name was Bernard, we left him supplies and food last visit. Well, Bernard has gone,
we thought it strange in September that they were sitting waiting always in the parking lot, we would feed them but wondered where Bernard was.
Now we know, he does not work there anymore, therefore the care of the dogs is quite apparant.
"Louis" the older one is extremely athritic and skinny. His best friend "Maartan"is only two years old but we know hes coming down with something too.
As you could see in the photo above, there was three coconuts, the third one was "taken away"



!!!!! Please Help These Animals !!!!!
This dog Desperately needs attention right now, look at her ribs, she is starving.

UPDATE
"Sweetie" has been rescued but they cant hold on to her, so she is tied up, but is very very sick with tick fever,
she needs someone to help her NOW!


"Sweetie" above has been rescued thanks to Joelles efforts, she is safe and has had veterinary attention, we will visit with her when we return to St Marten.
Sweetie is waiting for a wonderful home, she is heartworm free!!!!!!!

Sweetie has been in care now for 5 weeks. She is looking great, thanks to some very special people.We will bring Sweetie home to Canada before christmas ..
IF we find a suitable home for her!!!!!
Please contact us ASAP if you are interested in helping her.
GREAT NEWS!!!!!
Sweetie above has a fantastic home with our friend Audrey. Richard and l went to visit her recently.
She is so sweet and loving, what a wonderful dog and so extremely fortunate.

Here are some more of the CoConuts we have brought back with the help of some great friends recently
24...to be exact.........isnt that amazing!!!!! Lets BRING home to CANADA many many more!!!!!
Below are some of the very lucky ones
Saffron, Suki & Bailey Cindy with Lilly &
Bijoux
Marty

Thank you so much to everyone who has helped by picking dogs up from the airport to helping at the yard sale, fostering these very special dogs,
raising funds and contributing in many ways to help bring a coconut home to Canada. We could not do this without you.


Our 2nd CoConut Yard Sale at CHVS last July was a

HUGE

success....THANK YOU to all who helped and provided support


We will be accepting more treasures & used items from everyone for this years
3rd

Coconut Retriever Yard Sale in July



IF you want to help us..or make a donation..Let us know or email us at
laura_scouller@hotmail.com
for more information
This page will continue with updates as soon as we obtain more information in the plight & rescue of these beautiful dogs & cats of St MartaanThank You